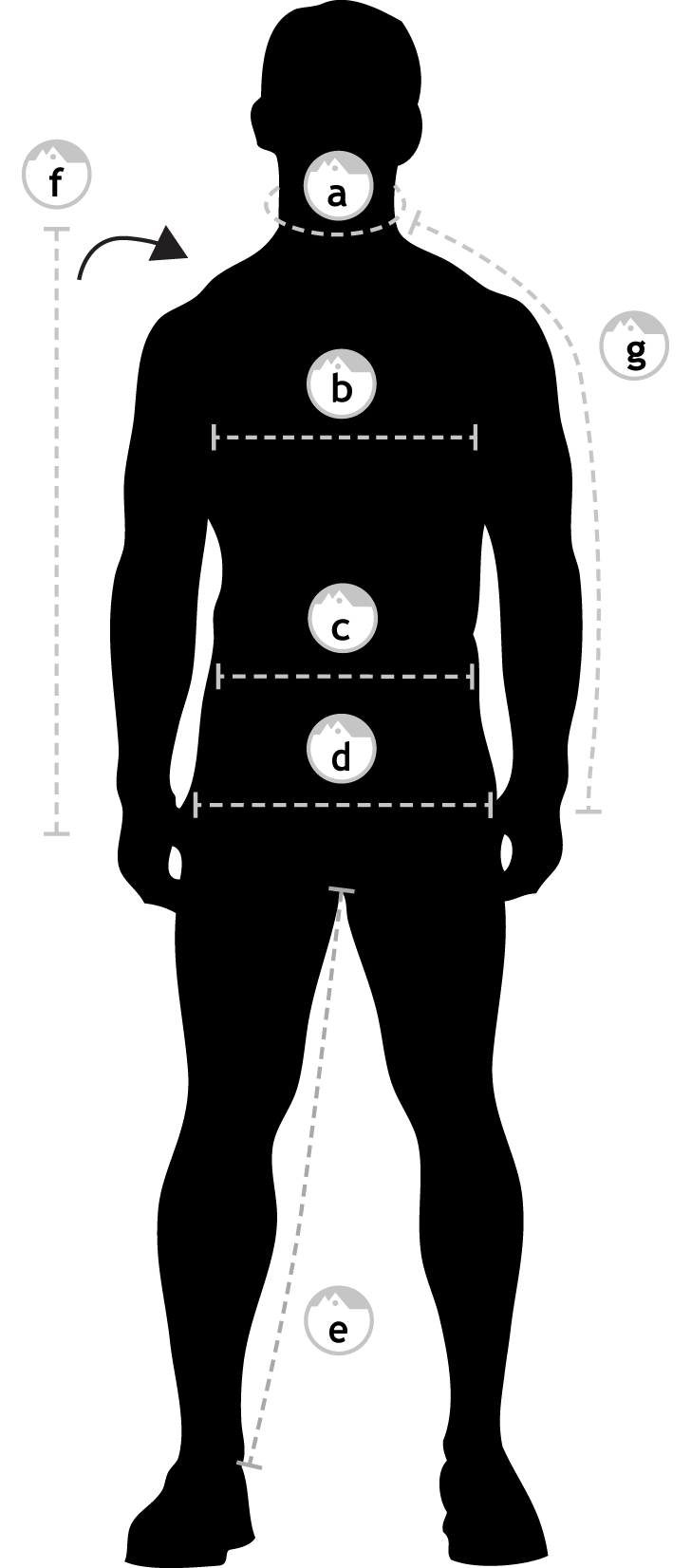 How to find your measurements
The best you can do is to take one of your own well fitting pants, jackets, shirts or the like and make your measurements directly on the garments. In this way it is easier and more precise than doing the measurement on your body.
a = Neck (shirts)
b = Chest
c = Waist
d = Hip
e = Inseam
f = Center back
g = Sleeve
Different designs
Each product line has its own fit. Our products are designed to have either a regular or a loose fit.

Regular = Anatomical shaping and gussets to enhance freedom of movement.
Loose = Higher volume designs to provide comfort and mobility.
One size = The product is designed to fit everybody. (Primarily accessories).
Size charts on our garments are listed as below:
Waterproof jackets
Fleece jackets
Insulated jackets
Waterproof pants
Pants (not waterproof)
Mid layer / insulation layer
Underwear
Shirts
---
Waterproof jackets
WS4
| | | | | | | | |
| --- | --- | --- | --- | --- | --- | --- | --- |
| | S | M | L | XL | XXL | XXXL | XXXXL |
| Center back | 63 | 65 | 67 | 69 | 71 | 73 | 75 |
| Chest | 128 | 131 | 134 | 137 | 140 | 143 | 146 |
| Sleeve | 78 | 81 | 84 | 87 | 90 | 93 | 96 |
| Waist | 118 | 121 | 124 | 127 | 130 | 133 | 136 |
Raptor4
| | | | | | | | |
| --- | --- | --- | --- | --- | --- | --- | --- |
| | XS | S | M | L | XL | XXL | XXXL |
| Center back | 60,5 | 62 | 63,5 | 65 | 66,5 | 68 | 69,5 |
| Chest | 118 | 123 | 128 | 130 | 136 | 144 | 148 |
| Sleeve | 75 | 78,5 | 82 | 83 | 86 | 89 | 92 |
| Waist | 94-102 | 102-108 | 106-112 | 108-116 | 116-124 | 122-128 | 123-130 |
Dozer5
| | | | | | | | | |
| --- | --- | --- | --- | --- | --- | --- | --- | --- |
| | S | M | L | XL | XXL | XXXL | XXXXL | JUMBO X |
| Center back | 77 | 79 | 81 | 83 | 85 | 87 | 89 | 89 |
| Chest | 122 | 125 | 128 | 131 | 134 | 137 | 140 | 160 |
| Sleeve | 77 | 82 | 83 | 85 | 87 | 87 | 87 | 87 |
| Waist | 117 | 120 | 123 | 126 | 129 | 132 | 135 | 165 |
Barbarus Jakke

| | | | | | | | |
| --- | --- | --- | --- | --- | --- | --- | --- |
| | S | M | L | XL | XXL | XXXL | XXXXL |
| Center back | 80 | 82 | 84 | 86 | 88 | 90 | 92 |
| Chest | 124 | 127 | 130 | 133 | 136 | 139 | 142 |
| Sleeve | 79 | 81 | 83 | 85 | 87 | 87 | 87 |
| Waist | 124 | 127 | 130 | 133 | 136 | 139 | 142 |
Dozer4

| | | | | | | | |
| --- | --- | --- | --- | --- | --- | --- | --- |
| | XS | S | M | L | XL | XXL | XXXL |
| Center back | 74 | 76 | 78 | 80 | 82 | 84 | 86 |
| Chest | 122 | 124 | 128 | 132 | 136 | 138 | 141 |
| Sleeve | 76 | 78,5 | 82 | 85 | 87,5 | 89 | 92 |
| Waist | 122 | 123 | 128 | 130 | 134 | 136 | 140 |

Xera3

| | | | | | | | |
| --- | --- | --- | --- | --- | --- | --- | --- |
| | XS | S | M | L | XL | XXL | XXXL |
| Center back | 69 | 71 | 73 | 75 | 77 | 79 | 81 |
| Chest | 120 | 124 | 128 | 132 | 136 | 140 | 144 |
| Sleeve | 75 | 77 | 79 | 81 | 83 | 85 | 87 |
| Waist | 116 | 122 | 124 | 130 | 131 | 137 | 141 |
Wakasazhi Jakke

| | | | | | | | |
| --- | --- | --- | --- | --- | --- | --- | --- |
| | XS | S | M | L | XL | XXL | XXXL |
| Center back | 67 | 69 | 71 | 74 | 76 | 78 | 80 |
| Chest | 106 | 112 | 117 | 124 | 130 | 136 | 141 |
| Sleeve | 75 | 78,5 | 80 | 84,5 | 87 | 89 | 92 |
| Waist | 102 | 110 | 116 | 124 | 130 | 134 | 140 |
Xanado

| | | | | | | | |
| --- | --- | --- | --- | --- | --- | --- | --- |
| | XS | S | M | L | XL | XXL | XXXL |
| Center back | 63 | 65 | 68 | 70 | 72 | 75 | 77 |
| Chest | 116 | 118 | 120 | 125 | 130 | 136 | 144 |
| Sleeve | 72 | 75 | 77 | 80 | 83 | 86 | 90 |
| Waist | 104 | 110 | 116 | 122 | 126 | 134 | 138 |
Fleece jackets

Dozer Fleece

| | | | | | | |
| --- | --- | --- | --- | --- | --- | --- |
| | S | M | L | XL | XXL | XXXL |
| Center back | 66 | 68 | 71 | 73 | 75 | 77 |
| Chest | 110 | 116 | 124 | 128 | 133 | 140 |
| Sleeve | 81 | 83 | 85 | 88 | 90 | 92 |
| Waist | 103 | 110 | 118 | 123 | 130 | 136 |
Xanti2

| | | | | | | |
| --- | --- | --- | --- | --- | --- | --- |
| | S | M | L | XL | XXL | XXXL |
| Center back | 72 | 73 | 74 | 75 | 77 | 78 |
| Chest | 118 | 122 | 124 | 130 | 134 | 138 |
| Sleeve | 77 | 82 | 85 | 87 | 89 | 91 |
| Waist | 106 | 108 | 116 | 120 | 122 | 126 |
Shinogi

| | | | | | | | |
| --- | --- | --- | --- | --- | --- | --- | --- |
| | XS | S | M | L | XL | XXL | XXXL |
| Center back | 62 | 65 | 66 | 68 | 70 | 72 | 75 |
| Chest | 102 | 108 | 114 | 120 | 128 | 132 | 138 |
| Sleeve | 76 | 79 | 81 | 84 | 86 | 88 | 91 |
| Waist | 86 | 94 | 98 | 100 | 104 | 110 | 116 |
Hoody2

| | | | | | | |
| --- | --- | --- | --- | --- | --- | --- |
| | S | M | L | XL | XXL | XXXL |
| Center back | 73 | 74 | 76 | 78 | 80 | 82 |
| Chest | 94 | 116 | 118 | 122 | 128 | 132 |
| Sleeve | 83 | 84 | 85 | 88 | 89 | 91 |
| Waist | 88 | 112 | 114 | 120 | 122 | 128 |
Otara Cardigan

| | | | | | | | |
| --- | --- | --- | --- | --- | --- | --- | --- |
| | XS | S | M | L | XL | XXL | XXXL |
| Center back | 65 | 68 | – | – | 74 | 76 | 80 |
| Chest | 98 | 102 | – | – | 124 | 128 | 130 |
| Sleeve | 75 | 77 | – | – | 86 | 88 | 93 |
| Waist | 86 | 89 | – | – | 108 | 114 | 120 |
Insulated jackets

Usque

| | | | | | | | |
| --- | --- | --- | --- | --- | --- | --- | --- |
| | XS | S | M | L | XL | XXL | XXXL |
| Center back | 78 | 81 | 81 | 87 | 89 | 91 | 93 |
| Chest | 116 | 124 | 132 | 142 | 152 | 162 | 170 |
| Sleeve | 61 | 63 | 65 | 67 | 69 | 71 | 73 |
| Waist | 112 | 120 | 128 | 136 | 144 | 156 | 164 |

DozerLiner Jakke

| | | | | | | | | |
| --- | --- | --- | --- | --- | --- | --- | --- | --- |
| | S | M | L | XL | XXL | XXXL | XXXXL | JUMBO X |
| Center back | 75 | 77 | 79 | 81 | 83 | 85 | 87 | 87 |
| Chest | 120 | 123 | 126 | 129 | 132 | 135 | 138 | 146 |
| Sleeve | 75,5 | 80,5 | 81,5 | 83,5 | 85,5 | 85,5 | 85,5 | 86 |
| Waist | 98-110 | 101-113 | 104-116 | 107-119 | 110-122 | 113-125 | 116-128 | 142 |
DozerLiner Vest

| | | | | | | | | |
| --- | --- | --- | --- | --- | --- | --- | --- | --- |
| | S | M | L | XL | XXL | XXXL | XXXXL | JUMBO X |
| Center back | 75 | 77 | 79 | 81 | 83 | 85 | 87 | 87 |
| Chest | 112 | 115 | 118 | 121 | 124 | 127 | 130 | 140 |
| Waist | 98-110 | 101-113 | 104-116 | 107-119 | 110-122 | 113-125 | 116-128 | 141 |
Waterproof pants
| | | | | | | | | |
| --- | --- | --- | --- | --- | --- | --- | --- | --- |
| | S | M | L | XL | XXL | XXXL | XXXXL | JUMBO X |
| Waist | 80-94 | 86-100 | 92-106 | 98-112 | 104-118 | 110-124 | 116-130 | 141-155 |
| Hip | 102 | 110 | 118 | 126 | 134 | 142 | 150 | 170 |
| Inseam | 79 | 80 | 81 | 82 | 83 | 84 | 85 | 85 |
Urus4

| | | | | | | | |
| --- | --- | --- | --- | --- | --- | --- | --- |
| | XS | S | M | L | XL | XXL | XXXL |
| Waist | 74 | 79 | 84 | 87 | 97 | 102 | 109 |
| Hip | 94 | 102 | 113 | 117 | 122 | 131 | 135 |
| Inseam | 74,5 | 77 | 79,5 | 80 | 83,5 | 86 | 88 |

Zoon4

| | | | | | | | |
| --- | --- | --- | --- | --- | --- | --- | --- |
| | XS | S | M | L | XL | XXL | XXXL |
| Waist | 77-80 | 80-83 | 84-88 | 86-89 | 92-96 | 97-103 | 101-105 |
| Hip | 99 | 105 | 106 | 110 | 116 | 119 | 126 |
| Inseam | 75 | 77,5 | 78,5 | 80,5 | 83 | 86 | 87 |
Barbarus Bukser

| | | | | | | | |
| --- | --- | --- | --- | --- | --- | --- | --- |
| | S | M | L | XL | XXL | XXXL | XXXXL |
| Waist | 83-91 | 89-97 | 95-103 | 101-109 | 107-115 | 113-121 | 119-127 |
| Hip | 104 | 112 | 120 | 128 | 136 | 144 | 152 |
| Inseam | 80 | 81 | 82 | 83 | 84 | 85 | 86 |
Urus King

| | | | |
| --- | --- | --- | --- |
| | M | L | XL |
| Waist | 86-104 | 93-111 | 100-118 |
| Hip | 120 | 128 | 136 |
| Inseam | 77 | 82 | 87 |

Xera Bukser

| | | | | | | | |
| --- | --- | --- | --- | --- | --- | --- | --- |
| | XS | S | M | L | XL | XXL | XXXL |
| Waist | 79-89 | 80-94 | 83-96 | 87-102 | 92-104 | 99-110 | 100-114 |
| Hip | 97 | 105 | 108 | 114 | 117 | 121 | 125 |
| Inseam | 73 | 75 | 76,5 | 79,5 | 81,5 | 82,5 | 85 |

Wakasazhi Overall

| | | | | | | | |
| --- | --- | --- | --- | --- | --- | --- | --- |
| | XS | S | M | L | XL | XXL | XXXL |
| Waist | 92 | 96 | 104 | 108 | 112 | 118 | 124 |
| Hip | 106 | 114 | 120 | 126 | 130 | 132 | 136 |
| Inseam | 77 | 78 | 80 | 82 | 84 | 84 | 84 |

Pants (not waterproof)

Yum

| | | | | | | | |
| --- | --- | --- | --- | --- | --- | --- | --- |
| | XS | S | M | L | XL | XXL | XXXL |
| Waist | 82 | 87 | 92 | 97 | 102 | 107 | 112 |
| Hip | 103 | 108 | 113 | 118 | 123 | 128 | 133 |
| Inseam | 77 | 78 | 79 | 80 | 81 | 82 | 83 |

Zam

| | | | | | | | |
| --- | --- | --- | --- | --- | --- | --- | --- |
| | XS | S | M | L | XL | XXL | XXXL |
| Tajle | 78 | 82 | 85 | 90 | 96 | 104 | 108 |
| Hip | 100 | 104 | 108 | 114 | 116 | 122 | 126 |
| Inseam | 76 | 78 | 80 | 82 | 83 | 84 | 86 |

Zip Zone

| | | | | | | | |
| --- | --- | --- | --- | --- | --- | --- | --- |
| | XS | S | M | L | XL | XXL | XXXL |
| Waist | 76-79 | 79-82 | 82-85 | 84-92 | 92-96 | 96-101 | 101-106 |
| Hip | 100 | 102 | 105 | 111 | 117 | 118 | 125 |
| Inseam | 80 | 81 | 82,5 | 83 | 83,5 | 89 | 92 |

Comba

| | | | | | | | |
| --- | --- | --- | --- | --- | --- | --- | --- |
| | XS | S | M | L | XL | XXL | XXXL |
| Waist | 79 | 82 | 87 | 92 | 95 | 102 | 107 |
| Hip | 97 | 100 | 104 | 112 | 119 | 122 | 125 |
| Inseam | 77 | 78 | 81 | 81,5 | 82 | 82 | 83 |

Sukuvu

| | | | | | | | |
| --- | --- | --- | --- | --- | --- | --- | --- |
| | XS | S | M | L | XL | XXL | XXXL |
| Waist | 78 | 84 | 88 | 93 | 98 | 104 | 110 |
| Hip | 93 | 102 | 105 | 106 | 112 | 122 | 126 |
| Inseam | 77 | 79,5 | 80 | 81 | 83 | 84 | 85 |
Shorts

Mahi Mahi Shorts

| | | | | | | |
| --- | --- | --- | --- | --- | --- | --- |
| | XS | S | M | L | XL | XXL |
| Waist | 56-74 | 64-80 | 72-85 | 78-91 | 83-100 | 83-100 |
| Inseam | 10 | 11 | 13 | 13 | 15 | 16 |
Swimmy Shorts

| | | | | | |
| --- | --- | --- | --- | --- | --- |
| | M | L | XL | XXL | XXXL |
| Waist | 88 | 92 | 96 | 100 | 104 |
| Hip | 116 | 120 | 124 | 132 | 136 |
| Inseam | 31 | 32 | 33 | 33 | 33 |
Mid layer / insulation layer

Jabba2

| | | | | | | | |
| --- | --- | --- | --- | --- | --- | --- | --- |
| | XS | S | M | L | XL | XXL | XXXL |
| Center back | 68 | 70 | 72 | 76 | 77 | 78 | 79 |
| Chest | 90 | 94 | 102 | 106 | 110 | 114 | 118 |
| Sleeve | 74 | 76 | 79 | 81 | 83 | 85 | 87 |
| Waist | 74 | 78 | 86 | 90 | 96 | 98 | 104 |

Evaporator Top

| | | | | | | | |
| --- | --- | --- | --- | --- | --- | --- | --- |
| | XS | S | M | L | XL | XXL | XXXL |
| Center back | 72 | 74 | 78 | 80 | 82 | 84 | 86 |
| Chest | 90 | 94 | 102 | 106 | 110 | 114 | 118 |
| Sleeve | 73 | 76 | 79 | 81 | 83 | 85 | 87 |
| Waist | 59-85 | 63-89 | 67-93 | 71-97 | 75-101 | 79-105 | 83-109 |

Inxula Top

| | | | | | | | |
| --- | --- | --- | --- | --- | --- | --- | --- |
| | XS | S | M | L | XL | XXL | XXXL |
| Center back | 72 | 74 | 76 | 78 | 80 | 82 | 84 |
| Chest | 99 | 103 | 107 | 111 | 115 | 119 | 123 |
| Sleeve | 74,5 | 77 | 79,5 | 82 | 84,5 | 87 | 89,5 |
| Waist | 80 | 84 | 86 | 94 | 100 | 102 | 106 |

Thermal2 Top

| | | | | | | | |
| --- | --- | --- | --- | --- | --- | --- | --- |
| | XS | S | M | L | XL | XXL | XXXL |
| Center back | 72 | 74 | 78 | 80 | 82 | 84 | 86 |
| Chest | 90 | 94 | 102 | 106 | 110 | 114 | 118 |
| Sleeve | 73 | 76 | 79 | 81 | 83 | 85 | 87 |
| Waist | 86 | 88 | 90 | 92 | 100 | 104 | 108 |

Evaporator Bukser

| | | | | | | | |
| --- | --- | --- | --- | --- | --- | --- | --- |
| | XS | S | M | L | XL | XXL | XXXL |
| Waist | 59-85 | 63-89 | 67-93 | 71-97 | 75-101 | 79-105 | 83-109 |
| Hip | 100 | 102 | 108 | 112 | 116 | 120 | 128 |
| Inseam | 74 | 78 | 80 | 81 | 82 | 83 | 84 |
Inxula Overall

| | | | | | | | |
| --- | --- | --- | --- | --- | --- | --- | --- |
| | XS | S | M | L | XL | XXL | XXXL |
| Waist | 76-84 | 80-89 | 87-94 | 90-99 | 96-104 | 101-109 | 106-114 |
| Hip | 106 | 108 | 110 | 116 | 120 | 124 | 128 |
| Inseam | 63 | 65 | 67 | 69 | 71 | 73 | 75 |
Inxula Bukser

| | | | | | | | |
| --- | --- | --- | --- | --- | --- | --- | --- |
| | XS | S | M | L | XL | XXL | XXXL |
| Waist | 60-87 | 64-91 | 68-95 | 72-99 | 76-103 | 80-107 | 84-111 |
| Hip | 98 | 102 | 108 | 112 | 116 | 118 | 126 |
| Inseam | 75 | 79 | 80 | 81 | 83 | 84 | 85 |
Thermal2 Bukser

| | | | | | | | |
| --- | --- | --- | --- | --- | --- | --- | --- |
| | XS | S | M | L | XL | XXL | XXXL |
| Waist | 59-85 | 63-89 | 67-93 | 71-97 | 75-101 | 79-105 | 83-109 |
| Hip | 100 | 106 | 112 | 116 | 120 | 124 | 130 |
| Inseam | 75 | 79 | 80 | 81 | 83 | 84 | 85 |

Underwear

Otara 150 T-shirt

| | | | | | | | |
| --- | --- | --- | --- | --- | --- | --- | --- |
| | XS | S | M | L | XL | XXL | XXXL |
| Center back | 66 | 68 | 70 | 72 | 74 | 76 | 78 |
| Chest | 90 | 96 | 100 | 104 | 108 | 112 | 116 |
| Waist | 90 | 96 | 100 | 104 | 108 | 112 | 116 |

Otara 150 Top

| | | | | | | | |
| --- | --- | --- | --- | --- | --- | --- | --- |
| | XS | S | M | L | XL | XXL | XXXL |
| Center back | 64 | 66 | 68 | 70 | 72 | 74 | 76 |
| Chest | 90 | 96 | 100 | 104 | 108 | 112 | 116 |
| Sleeve | 73 | 75 | 78 | 80 | 82 | 84 | 86 |
| Waist | 90 | 96 | 100 | 104 | 108 | 112 | 116 |

Otara 195 T-shirt

| | | | | | | | |
| --- | --- | --- | --- | --- | --- | --- | --- |
| | XS | S | M | L | XL | XXL | XXXL |
| Neck | 64 | 66 | 68 | 70 | 72 | 74 | 76 |
| Chest | 90 | 96 | 100 | 104 | 108 | 112 | 116 |
| Waist | 90 | 96 | 100 | 104 | 108 | 112 | 116 |

Otara 150 Bukser

| | | | | | | | |
| --- | --- | --- | --- | --- | --- | --- | --- |
| | XS | S | M | L | XL | XXL | XXXL |
| Waist | 70 | 76 | 78 | 80 | 86 | 94 | 96 |
| Hip | 84 | 92 | 94 | 96 | 102 | 108 | 112 |
| Inseam | 80 | 81 | 82 | 83 | 84 | 86 | 87 |

Otara 150 Boxershorts

| | | | | | | | |
| --- | --- | --- | --- | --- | --- | --- | --- |
| | XS | S | M | L | XL | XXL | XXXL |
| Waist | 60 | 64 | 68 | 72 | 76 | 80 | 84 |
| Hip | 84 | 88 | 92 | 94 | 96 | 98 | 100 |
| | | | | | | | |
| --- | --- | --- | --- | --- | --- | --- | --- |
| | XS | S | M | L | XL | XXL | XXXL |
| Neck | 40 | 41 | 42,5 | 44 | 45,5 | 47 | 48,5 |
| Chest | 100 | 106 | 112 | 120 | 130 | 140 | 150 |
| Sleeve | 63 | 64 | 65 | 65,5 | 66 | 66,5 | 67 |
| Waist | 94 | 100 | 106 | 114 | 124 | 134 | 144 |

Banga korte ærmer

| | | | | | | | |
| --- | --- | --- | --- | --- | --- | --- | --- |
| | XS | S | M | L | XL | XXL | XXXL |
| Neck | 40 | 41 | 42,5 | 44 | 45,5 | 47 | 48,5 |
| Chest | 100 | 106 | 112 | 120 | 130 | 140 | 150 |
| Sleeve | 23 | 24 | 25 | 26 | 26,5 | 27 | 27,5 |
| Waist | 94 | 100 | 106 | 114 | 124 | 134 | 144 |
Tonga lange ærmer

| | | | | | | | |
| --- | --- | --- | --- | --- | --- | --- | --- |
| | XS | S | M | L | XL | XXL | XXXL |
| Neck | 36 | 38 | 40 | 42 | 44 | 46 | 48 |
| Chest | 106 | 110 | 114 | 118 | 122 | 126 | 130 |
| Sleeve | 63,5 | 64,5 | 65,5 | 66,5 | 67,5 | 68,5 | 69,5 |

Tonga korte ærmer

| | | | | | | | |
| --- | --- | --- | --- | --- | --- | --- | --- |
| | XS | S | M | L | XL | XXL | XXXL |
| Neck | 36 | 38 | 40 | 42 | 44 | 46 | 48 |
| Chest | 106 | 110 | 114 | 118 | 122 | 126 | 130 |
| Sleeve | 22 | 22 | 22 | 24 | 25 | 26 | 27 |
Woggi

| | | | | | | | |
| --- | --- | --- | --- | --- | --- | --- | --- |
| | XS | S | M | L | XL | XXL | XXXL |
| Neck | 41 | 42 | 44 | 45 | 46 | 47 | 48 |
| Chest | 110 | 114 | 118 | 122 | 126 | 130 | 134 |
| Sleeve | 82 | 83 | 84 | 85 | 86 | 87 | 88 |
Polybrush

| | | | | | | | |
| --- | --- | --- | --- | --- | --- | --- | --- |
| | XS | S | M | L | XL | XXL | XXXL |
| Neck | 38 | 40 | 43 | 44 | 46 | 47 | 48 |
| Chest | 113 | 119 | 124 | 128 | 131 | 142 | 148 |
| Sleeve | 76 | 78 | 79 | 82,5 | 83 | 87,5 | 89 |
| Waist | 116 | 123 | 126 | 130 | 134 | 144 | 152 |
Zulo

| | | | | | | | |
| --- | --- | --- | --- | --- | --- | --- | --- |
| | XS | S | M | L | XL | XXL | XXXL |
| Neck | 40,5 | 42,5 | 44,5 | 45,5 | 46,6 | 47,5 | 48,5 |
| Chest | 106 | 110 | 114 | 118 | 122 | 126 | 130 |
| Sleeve | 24,5 | 25,5 | 26,6 | 27 | 27,5 | 28 | 28,5 |
Morada lange ærmer

| | | | | | | | |
| --- | --- | --- | --- | --- | --- | --- | --- |
| | XS | S | M | L | XL | XXL | XXXL |
| Neck | 40 | 42 | 44 | 45 | 46 | 47 | 48 |
| Chest | 110 | 114 | 118 | 122 | 126 | 130 | 134 |
| Sleeve | 58,5 | 59,5 | 60,5 | 61,5 | 62,5 | 65,5 | 67,5 |
Morada korte ærmer

| | | | | | | | |
| --- | --- | --- | --- | --- | --- | --- | --- |
| | XS | S | M | L | XL | XXL | XXXL |
| Neck | 40 | 42 | 44 | 45 | 46 | 47 | 48 |
| Chest | 110 | 114 | 118 | 122 | 126 | 130 | 134 |
| Sleeve | 23,5 | 23,5 | 23,5 | 23,5 | 23,5 | 23,5 | 23,5 |

T-shirt

| | | | | | | | |
| --- | --- | --- | --- | --- | --- | --- | --- |
| | XS | S | M | L | XL | XXL | XXXL |
| Center back | 69 | 72 | 74 | 75 | 75 | 76 | 79 |
| Chest | 100 | 104 | 108 | 112 | 116 | 120 | 124 |
| Sleeve | 20,5 | 21 | 21,5 | 22 | 22,5 | 23 | 23,5 |
| Waist | 98 | 102 | 106 | 110 | 114 | 118 | 122 |