Geoff Anderson is a small, energetic Danish company with it's roots in sport fishing. The first products came to light in 1998.

Geoff Anderson takes great pride in ensuring that the clothing is produced in a sustainable manner and with great respect for the user. With sustainable we mean: A long product-life. Our choice of materials, design and production methods always aims at sustainability on the "long lane".

If possible we work only with non-toxic, eco-certified / tested products. Many of these are either purchased recycled or can be recycled. In fact, as one of the few, we have a recyclable and degradable membrane technology. All our products are free of harmful, free particles in the waterproofing (DWR).

Most of our subcontractors as well as manufacturers are subject to an administration-unit that keeps track of the entire supply chain. Watching that everybody works responsibly. We connect our suppliers and manufacturers in a network to promote a healthy, open and not least responsible final result.

Development is taking place in Europe, so it is quite natural that our supplier network is Scandinavian. It ensures quality and orderly production conditions. In practice, it means that virtually everything from watertight tape to zippers and small buttons is quality controlled from Europe. In addition, several of our manufacturers are European owned in a single case, even Danish.

In our daily lives, we try to reduce the amount of packagings, as well as using recycled boxes for shipment.

Finally, we always try to fix claims locally.

And perhaps most importantly, we are doing our very best to produce durable products that you can enjoy for many years. Many of our products have a very long service life which are in a sharp contrast to other parts of the textile industry.
"Buy-and-throw-away" is so not Geoff Anderson.
Welcome to an insight in our responsible business
We make functional and long-lasting fishing clothing of the highest quality with our environment and climate in mind.
CSR
Environmental friendly
Green transition
Climate data
Sustainability

Together we can do better
We at Geoff Anderson would like to start out by sending out a huge thank you out to all of you Geoff users. Without you, first and foremost,we wouldn't have a business, but most of all, we wouldn't have the opportunities to work with sustainability in the way we do today, and intend to do moving forward. Over the years, we have received a lot of useful feedback from you on our products – feedback, that has given us a valuable basis for continuously improving the clothes so that it has a long life at home with you. For that we want to say THANK YOU and please, keep it up!
Every day we do our best to make our products as durable as possible. That is sustainability for us. But you also have a responsibility. Working with responsibility in the clothing industry can't be done without great consumers. You play an important part in the work of reducing our environmental and climate footprint as much as possible. By taking good care of your Geoff products through proper maintenance, sensible purchases and by choosing to repair your clothes rather than buying something new, together, we can lower our consumption of the valuable resources of the earth, and live a more sustainable fishing life.
Finally, I would like to warmly welcome you to our sustainable universe, and wish you a lot of fun reading!
The best fishing greetings
Jakob Sørensen


Geoff Anderson's responsibility journey
Always looking to do better
Textiles can never be sustainable. Every time we produce a piece of clothing we leave a footprint. We know that. But we work on making clothes more responsibly.
Since we started dressing anglers with waterproof, breathable, warm and durable clothing of the highest quality in 1998, our ultimate mission has been to reduce our footprint.
Common sense is the starting point in all our models. From the first lines drawn to the finished piece of clothing, we focus on responsibility – towards our environment and climate as well as all the people who take part in the life cycle of the clothing.
Brand and basic principles
Geoff Anderson is not a fashion brand. We are a function brand.
We design clothes with the function in mind. All our clothes have a special function – an x-factor that gives you the best starting point to concentrate on the most important: Enjoying a good fishing trip, while our clothes do all the work to keep you warm, dry and comfortable.


Longevity is our design principle number 1
We design clothes that can last. For us, the most responsible choice is to make clothes that can have the longest possible lifetime at home with our customers. This means, that our assortment is based on simple and timeless designs, where quality materials, high professional standards and constant improvements are prioritized.
Old is gold (and greener)
For us, it is crucial to give our customers the best starting point to enjoy their fishing clothes for many years to come. If they can avoid buying a new pieces of clothing because the old one is still performing, then we have saved the production of new products. We see that as a great success, and that is the whole foundation of our business.
Responsible products
We wish to give our customers a good and healthy fishing life through:
Responsible product development
Responsible consumer phase
Responsible product development
The ambition to reduce our footprint as much as possible takes an important starting point in our design phase and selection of materials.

The design phase
The responsibility behind our models is based on incorporating the purpose of the clothing in the design phase.
With the angler as our primary clientele, we take as our starting point that our clothes must be able to withstand all kinds of weather, dirt, salt and great wear and tear.
To meet the fishing environmentsgreat strain on the clothes, we work with three coherent basic foundations in our design process:
Performance → Quality → Durability → Reducing consumption
By taking as a starting point what the clothes should be able to perform, choosing the highest quality, which thus gives the clothes high durability, the three basic foundations go hand in hand to help us reduce the consumption among our customers as much as possible. We remove the need to buy something new. The lower the consumption is, the less we have to produce, and the lower is our footprint.
 
Smart selection of materials
Our most important job is to keep the anglers dry and warm on their fishing trip – with clothes that they can use for many years. For us, that is responsibility, and we will never compromise on that.
We work persistently on finding the balance between the functionality, durability and environmental impact of the clothes. Therefore, we hand-pick all of our materials, so we know that they each have the best possible quality.
Hard-wearing and effective materials
Our clothes must be functional for a long time. Along the way, we find it challenging to find 100 % environmental friendly materials that can do just that. Especially for our jackets and pants, whichare doing the hardest job to withstand wind and weather. As we believe that we ultimately get the most responsible product by ensuring the longevity of the clothes, we therefore often prioritize choosing the most hard-wearing and effective materials instead of the most "green" choice on paper. In the future, we wish to work with more recyclable and recycled materials. However, never by compromising on the longevity and functionality of the clothing.
No thanks to harmful chemicals
The vast majority of our materials are free of chemicals that are harmful to the health and environment. We primarily work with Oeko-Tex® certified materials in everything from our zippers, fabrics and elastics. Besides the obvious benefits for our customers and mother nature, we also ensure healthy working environments among our manufactures and employees by using chemical free materials.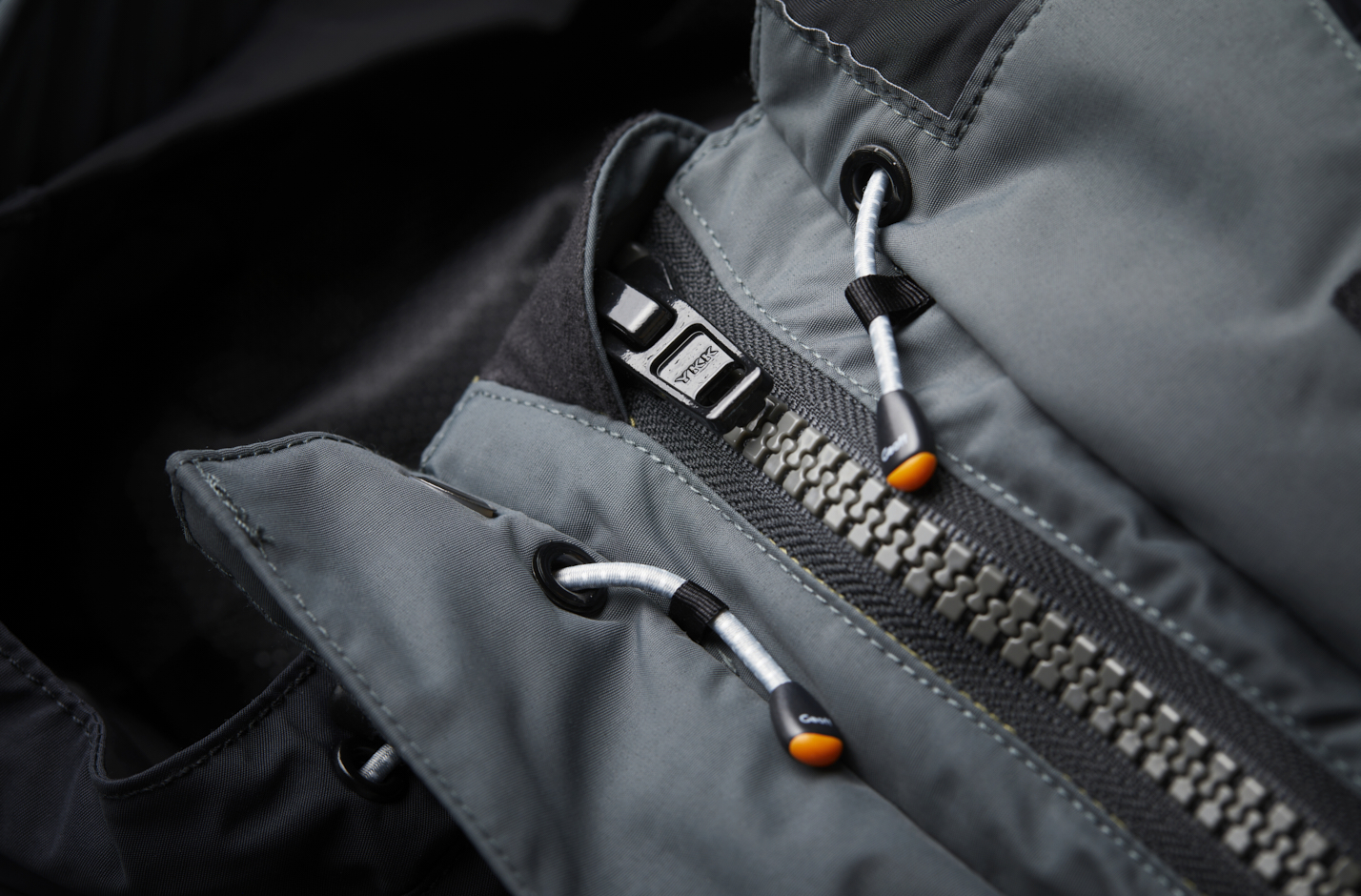 The road toward a more responsible surface treatment
Surface treatment without PFOA
Everyone who produces high quality rainwear relies on a surface treatment of their waterproof outer fabrics. It is an industrial standard within our segment to use a long- chain fluorocarbon-based treatment (PFOA). The treatment is extremely effective. Unfortunately, the efficiency comes with a high price for people and the environment. A price we at Geoff Anderson can't unite with. Therefore, we don't use this type of treatment.
Thorough work towards a better solution
During the last 10 years we have closely studied the market for alternatives with comparable efficiency. By carefully researching and testing the available fluorocarbon-free alternatives, we achieved several collections with flour-free surfaces. We succeededto some degree in improving the surface tension and got, for example, raindrops to bounce off and spread instead of saturating the fabric.
Shortened lifetime has big environmental consequences
The thing is, these surfaces are easy to contaminate with dirt. When the surface becomes contaminated it quickly loses its effect. A reduced efficiency will automatically reduce the effective lifetime of the product. The short life of our products is particularly worrying. If our clothes have to be replaced more often, it constitutes its own, and in our opinion, the biggest environmental problem. Each replacement has environmental costs in energy, water, waste and greenhouse gas. So compromising longevity is actually the worst thing we can do.
Unfortunately, the 100 % flour-free products doesn't work well enough for ourcustomer segment. Our flour-free collections turned out to have a highly reduced lifetime, and our user group behaved skeptical towards their jacket and pants surfaces getting soaked more quickly.
We aren't perfect, but we are working on it
Our temporary solution isn't perfect, but it demolishes faster, and over time has less potential toxicity towards people and wildlife. We continue to actively research and test alternatives that will provide the same high efficiency with less environmental impact.
We are constantly evolving with our entire supply chain. Our environmental footprint has our full attention in everything we do. Every single day we try to unite business and responsibility in the most optimal way.
Materials and technologies
Robust membrane technology
A great share of our waterproof jackets and pants consist of the most durable technology on the market. Our membrane (coating) is fused with an outer garment that allows condensation to escape through the membrane, but at the same time blocks water and rain from the outside – the perfect function for the angler. Our membrane consists of, among other things, Polyurethan and polyester, which are applied on the backside of a strong Polyamide weave.
The membrane is extremely robust throughout its lifetime, and therefore gives our waterproof jackets and pants a long and good life.

RecyclablePolartec®
Our fleece and middle layer products are primarily made from textilesfrom Polartec®, who is among the leaders within sustainable textile solutions and recyclable technologies. With our middle layer products, we have the unique opportunity to choose the greenest option, as they don't have to withstand the same wear and tear as the outer layer. The materials from Polartec® provides a more responsible product. At the same time, we still achieve a piece of clothing with high durability. We find that our fleece and middle layer products have a long life by using Polartec®.

Polyurethan
Polyurethan is a part of the membrane in our waterproof products. Polyurethan is an extremely hard-wearing, waterproof and durable material, which makes our jackets and pants functional and ensures a long lifetime.
However, the manufacturing of polyurethan can have environmental consequences. We try to compensate for the impact the production of polyurethan makes, by only using responsible manufactures with transparent and environmental friendly productions.

Recycled and virgin-polyester
In most of our fleece products, as well as shirts, we use recycled polyester. Polyester is a lightweight material that makes it ideal for outdoor use and maintain its quality for many years to come. By limiting our use of virgin-polyester, we save crude oil, energy consumption, CO2 emissions as well as waste, which is otherwise the result of polyester production.

Recycled and virgin-polyamide
Polyamide is the most hard-wearing piece of material we use in our clothing. We use it in the products that are exposed to extra wear and tear, and therefore, you especially see polyamide used in all of our waterproof and warm jackets as well as pants. By using polyamide, our products achieve all of the wanted functions while giving them a long life. That's why 99 % of our outer products is made from polyamide.
There are severalenvironmental risks associated with using polyamide. Its production calls for a large amount of energy, and thusemits a big CO2 footprint, as the material is based on crude oil. In addition, there are not always good opportunities to recycle polyamide. To that extent possible, we always try to use recycled polyamide rather than virgin-polyamide. Despite the fact that we sometimes have to use virgin- polyamide, we still see it as the most responsible choice, as we find that our jackets and pants have a significantly longer lifetime than with other "greener" materials.

Natural cotton
We work with cotton from organic cotton productions. Cotton produced in conventional agriculture contains large amounts of harmful chemicals. For all intents and purposes , we want to avoid that. The cotton is found in our Ezmar shirts, where it has been brushed twice and thoroughly washed to respectively soften the shirt and avoid shrinkage.
However, we can't ignore the fact that there is a large water consumption associated with the production of cotton. Therefore, in the future we want to make an effort to work more with recyclable cotton, in order to reduce our contribution to the big water consumption.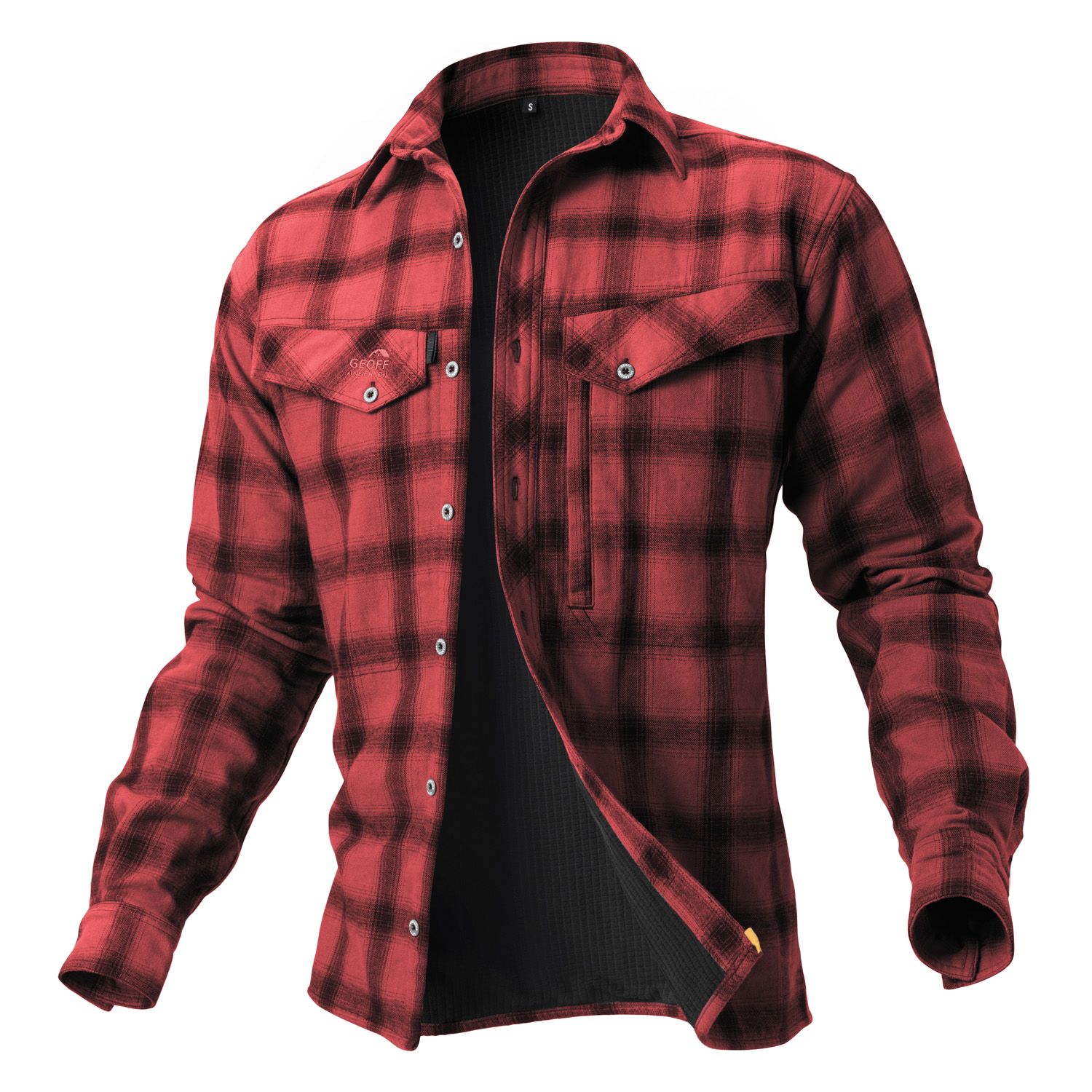 Natural and responsible merino wool
In our series of middle layers, underwear, socks and hats, we use natural merino wool. It gives the softest and best quality, and therefore feels good against the skin and last a long time. Actually, we are surprised on how durable the merino wool is. After several of the hardest tests, the merino wool still feels soft and luxurious.
We usually use merino wool with either recycled Polartec® fleece on the outside, or mixed with polyester. Our experience says, that by mixing a bit of polyester with merino wool the lifetime of the clothes are expanded. Therefore, we use the best from both fibers. The soft and luxurious together with the strength from the synthetic.

Natural cluster down
Our Usque down parka, the world's first down parka based on biodegradable, waterproof, windproof and breathable technology, is made from 95 % cluster goose down. The cluster down forms some of the finest down on the market, and the bigger the amount, the fuller the product gets. Therefore, the large contentof cluster goose down ensures that the down parka is a full and warm jacket. Aside from the high quality and good function of the down, it is also Oeko-Tex® certified and guaranteed non live plucking.
Responsible consumption phase
The consumption phase accounts for a big part of the clothing's environmental footprint. When it comes down to it, it is the consumer who takes the lead in the choosing and using of the clothes. In order to reduce the footprint left in the consumption phase, we focus on making it as easy as possible for our customers to achieve a responsible clothing consumption by:
incorporating intelligent design options into our product development,
educating our retailers thoroughly in our products,
providing our customers adequate information on proper maintenance,
and encouraging repairs rather than exchanges of our clothes as far as repair is an option.
 
Intelligent design options
We continuously work with improvements
As a function brand, we always see the greatest value in our clothes being the best version of themselves – and not in releasing new products every season. This means that we continuously work on increasing the durability and functionality of our current products.

For us, product expertise is the key
When we don't develop new products, it is because we improve on those we already have. Our primary products are pretty much identical to the products we had 20 years ago. That makes us experts in our clothes. Through that knowledge and expertise, we always work to fine-adjust our current products so they become more durable.

Education of our retailers
We give our retailers proper knowledge to dress our costumers properly
We make sure that our retailers have in-depth knowledge to our products. We arrange product training for the staff, and set product training as a requirement in the proceedings of selected products. We find this as necessary and especially valuable for the end user of our products.

Knowledge of needs and the correct size gives the longest durability
Crucial is giving our retailers the abilities to understand our costumer's needs and dress them in the right sizes. If the clothes fit the costumer's needs, it also has a longer lifetime, as the product matches the exact purpose for which the customer wishes to use it. Likewise, the proper size is also crucial. A size too small can result in faster wear and tear, and a size too big can result in the clothes not being able to perform their function.
Proper maintenance
A shared responsibility to ensure proper maintenance
In addition to being orderly dressed for the fishing trips, it is also important that the fishing clothing is functional forall the time the angler uses it. This requires proper maintenance. In addition to educating our retailers in providing expert guidance in maintenance, we also try to guide the anglers in proper maintenance of our products.
Repair rather than exchange
We decide on every single potential complaint
Sometimes our costumers experience that a products has a defect or doesn't live up to its function. In these cases, we try to examine whether the fault lies within the product or in the use of the product. We often experience being able to help our customers with the correct use of their fishing clothing when they experience problems. By taking the time to do so, we avoid making an exchange on a product that actually works how it is supposed to. In that way, we also avoid using unnecessary amounts of raw materials associated with the production of a piece of clothing.

Repair, repair, repair
When we are dealing with a defect on a piece of clothing, we always examine the potential for repair. In our product development phase, we take the possibilities for repairs into consideration in our design choices, and therefore defects in our clothes can often be repaired. Most recently, we have made sewing technical improvements on our Thermal3-series so that they are easier to repair if their go up.

We find that our proactivity works
When a product is no longer entitled forcomplaints, we experience a demand for repair from our costumers if their clothes have broken. They are interested in keeping their current product instead of buying a new one – because they have been happy with it. This showsthat our proactive approach to educate anglers in maintaining the clothes correctly works. It helps to create a more responsible consumption phase.

Complaint rate on 0,002% in 2020 for 15.742 sold products
We have dealt with 37 complaints in 2020. Almost half of these were repaired. Our waterproof jackets, Raptor and Barbarus, are among our most popular models, which endures the most wear and tear and rough weather. Here, we have had a correspondingly low complaint rate across generations and for many years. For example, our Raptor jacket has now been produced in 35.000 copies, and has a complaint rate under 0,05 %.
The few complaints are a good indicator that our efforts to create a responsible consumption phase are working. Likewise, it's a clear indication that our design and material choices ultimately result in a lower impact, as we produce fewer pieces of clothing, and our costumers consume less.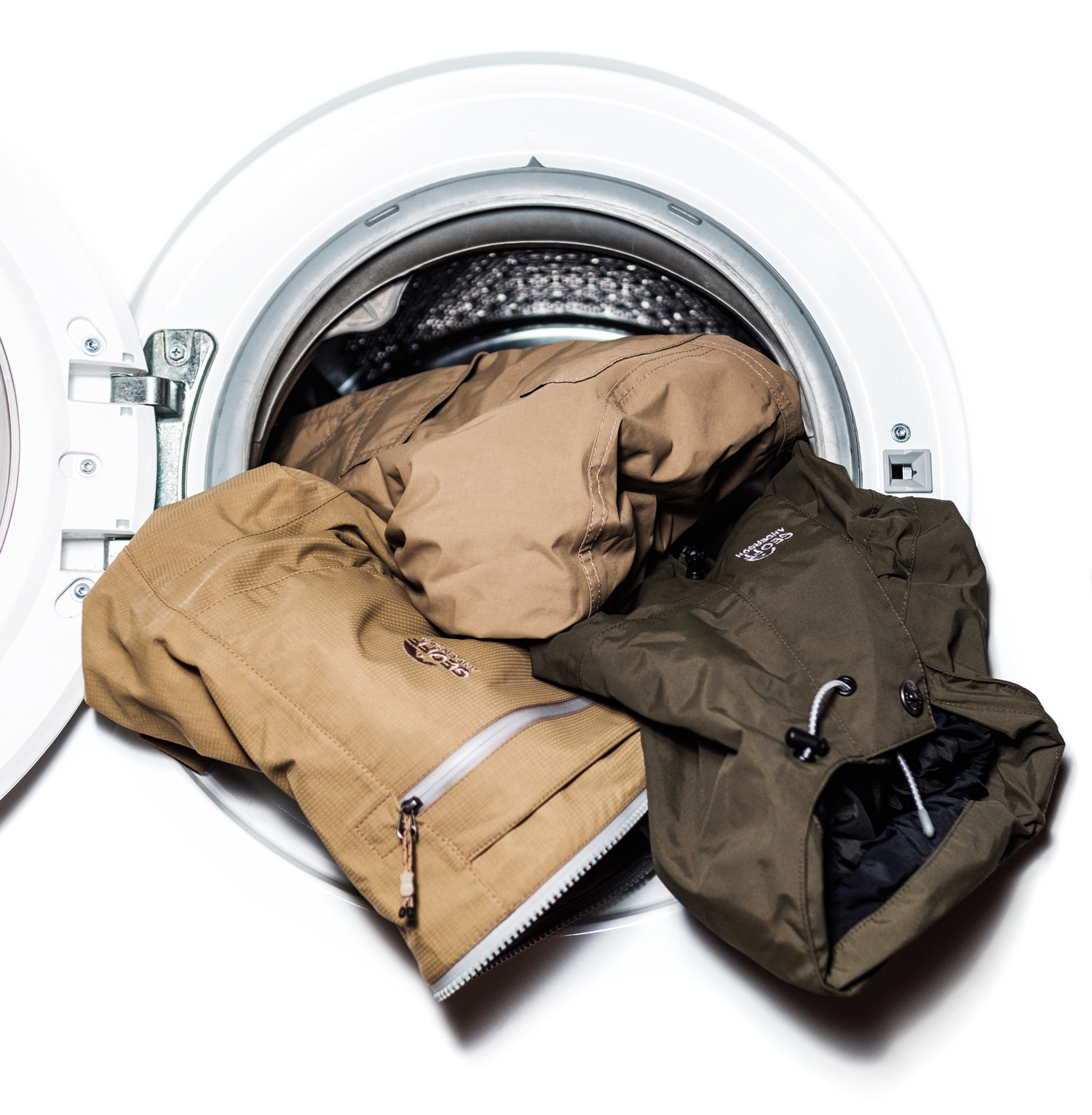 Responsible production
With great passion, we work on making our production as responsible as possible through safe and trustworthy supply chains as well as sensible transport choices.
Responsible choice of suppliers
We hand-pick our suppliers incredibly carefully
In general, we are picky with our suppliers. They play a crucial role in our responsible journey. Therefore, our supply chain consist only of socially and environmentally responsible factories, manufactures and collaborators.

European suppliers are highly prioritized
The majority of our materials are European-made. This is reflected in the price, but is for us the most responsible choice in relation to ensuring a high environmental, social and quality standard – absolutely crucial for our business.

Control and trust describes our Asian production
In Asia, they are very good at producing technical garments. Therefore, a great part of our clothes are produced in China and Vietnam. Here, we have long and trustworthy relationships with the factories we work with. We are confident in their quality standard, expertise and skills. To control the conditions at the factories, we have delegated the control duty to a trusted partner. In addition, we have over many years established great communication with the factories in Asia. In that way, we know that our clothes are produced under socially and environmentally responsible conditions.

European production whenever we can
When we have the opportunity, we choose to produce our clothes in Europe. This applies when our fabric is manufactured in Europe. In these cases, our clothes are produced in Europe, as we see a unique opportunity to save the trip to and from Asia. Our European production takes place in Poland, and this is, among others,where our waterproof jacket, Tsuba3, is produced.

Long-term relationshipswith our suppliers
Our responsible journey couldn't be without long and close relationships with our suppliers and collaborators. They are fully informed about our values, standards and expectations to them. In this way, we don't face obstacles in creating exactly the product we want, and in addition, we have a clear insight into the conditions under which our materials and clothes are produced.
Responsible transport choices
We try to choose the most environmental friendly mode of transport, as well as to transport efficiently with loaded trucks or containers.

The transport route for our clothes
As our materials are primarily European-produced and the majority of our production takes place in China and Vietnam, our clothes have a longer transport route before ending up in the stores. In the ideal world, we would geographically gather all of our productions further, but there are many responsible thoughts behind our choices.
First and foremost, we prioritize European sub suppliers, as we can make sure that our materials are being produced under proper conditions that live up to European standards. In addition, we choose European materials to ensure the good quality, which in the end results in a more durable product.
Based on these choices, our clothes must often travel from Europe to China and back to Denmark. We know that our choice of European sub suppliers leaves a bigger footprint in transportation than Asian sub suppliers. Therefore, we always try to make the most responsible transport choices. As often as we can, we freightour clothes from China to Europe by ship. In some cases, we choose aircraft in case of smaller packages that we can't get onboard a ship container.
Our local transport choices
Locally, we try to make the most sustainable transport choices. Most recently, we have moved some of our freight over to DHL – a transport company with green ambitions that we can reflect on. Aside from having a great focus on reducing their CO2 emissions, they also show great innovation through their purchase of electric airplanes and experimentation with drone delivery. Their green profile helps to give us a desire to move the majority of our loads over to them in the long run.
Local repairs
When there is a need for repairs of a purchased piece of clothing, we often encourage our retailers to have it repaired locally. That is most often possible with simple repairs, and gives transport saving, as we thus avoid transporting a very small package from Copenhagen and back to the retailers.
Transport divided into modes of transport
The distribution of our transportation in 2020 for the shipping of 15.742 sold units
Ship: 87,3 %
Train: 0 %*
Truck: 10,5 %
Aircraft: 2,2 %
*We haven't used train transport – yet! Going forward, we want to move more of our shipping from aircraft to train. Until now, we have used planes to transport smaller packages that we couldn't get on board a ship. In the future, we will do this by train instead, as this mode of transport also canship smaller packages from Asia. As transportation by train leaves a smaller CO2 footprint than aircraft, it makes sense for us to move the majority of our cargo from aircrafts and onto the trains.
 
Recycling and reuse
As the scarcity of the earth's resourcesincreases, we try to work with reuse and recycling wherever we can. We do that best with our store interior and packaging.

Recyclable store materials
Our clothes hangs on cardboard, cast-off pipes and care tires.
We want to send a clear signal about our sustainable thinking through everything we do. This also applies for our presence in the stores. Here, our customers will encounter racks made from recycled pipes, which are placed infeets made ofdiscarded tires. I addition, most of our hangers are made from recycled cardboard. In this way, we make sparing use on the nature's resources. Partly by recycling materials, and partly by reusing our racks, which is a flexible solution that we can make fit into all stores.
 
Reuse of packaging
Efficient utilization of recycled packaging
We work hard to reduce our use of packaging as much as possible. We do this in part by reusing our robust cardboard boxes, which we have defined the manufacturing of ourselves, to ensure that they can be reused again and again despite of much use. In addition, we try to pack as many products as possible in one box by, among other things, compressing plastic bags as well as making bigger cardboard boxes that fit our products. Most recently, we have reduced the use of packaging for our underwear products, as the packaging provided no value for either the retailers or costumers.
UN's Global Goals
Through our responsible work, we try to contribute to UN's Global Goals for sustainable development. In particular, we focus on three goals, where we see that our choices and way of running a business can make a difference.
Goal 6:
Sub goal 6.3: Reducing pollution in our water as well as increasing recycling.
Our goal: To work more with recyclable materials, when it does not affect the lifespan of the product. To ensure responsible elimination of warranty claims.

Goal 12:
Sub goal 12.2: Sustainable management and efficient use of natural resources.
Our goal: Our goal: To continue to prolong the durability of our clothes and increase the possibilities for repair.

Goal 13:
Sub goal 13.2: Measures against climate change must be integrated into national politics, strategies and planning.
Our goal: To reduce the CO2-footprint from repatriating products through increased production in the local area and via responsible choice of modes of transport.