Cold feet are one of the worst things when you are fishing. After your feet are getting cold, it is almost impossible to warm them again. The other matter is by the high temperatures outside, when waders or rubber boots can become nusty for your feet. But you can change discomfort to comfort if you have socks suitable for cold and warm weather.
What are the best fibers and yarns for socks?
There are many different kinds of fibers and yarns, but merino wool socks are the best for many purposes. Merino wool is "temperature-intelligent". It means, that wool manages moisture, when it is warm, and manages freezing, when it is cold. New Zealand merino wool represents the world finest wool, it insures the highest comfort during different activities and by different weather.
What is the right size for socks?
It is important not to buy socks, which are too small - especially intended for fishing in waders or rubber boots. It does not matter having socks fitting tight on your feet in summer. But in cold months, it is very important to have not too tight socks, but a pair, which is comfortable and supportive. You should care that your socks are not too big and can slide free on your feet, when you are moving - it can increase the risk for getting blisters.
It is better in fact to get socks one number bigger, than one number too small. A little bigger sock will provide more space for your toes in waders/footwear, just like there will be space for more air around the foot – and it is air, which contributes to keeping your feet warm.
In case of using socks for hiking or other activities like that, it is a good idea to have socks fitting tight, because socks are rarely needed as insulation.
What is the difference between hiking and fishing socks?
A thick wool sock can not be called a fishing sock, there is a difference. Though a hiking sock seems to be very simple, there is a big difference in its production technology and it is a very advanced product – among other because of composition of different yarns in varying thickness and a complicated knitting technology.
Hiking socks are designed at the present time usually to be tight fitting feet, because of maximum support. On the other side there are almost always synthetic fibers providing good elasticity – especially around the arch and ankle.Sewing stitches and assemblings are flat to bother less possible. Furthemore elasticity promotes forming after the foot. Hiking socks have additional "step cushions" underfoot – especially by the heel and toe box – so they feels thicker. It provides better shock absorption and spares feet, which is especially important if hiking with a heavy backpack. Reboot is our proposal for a complete hiking sock, which can be used for long walks or as a simple every day sock in cold months. Find them HERE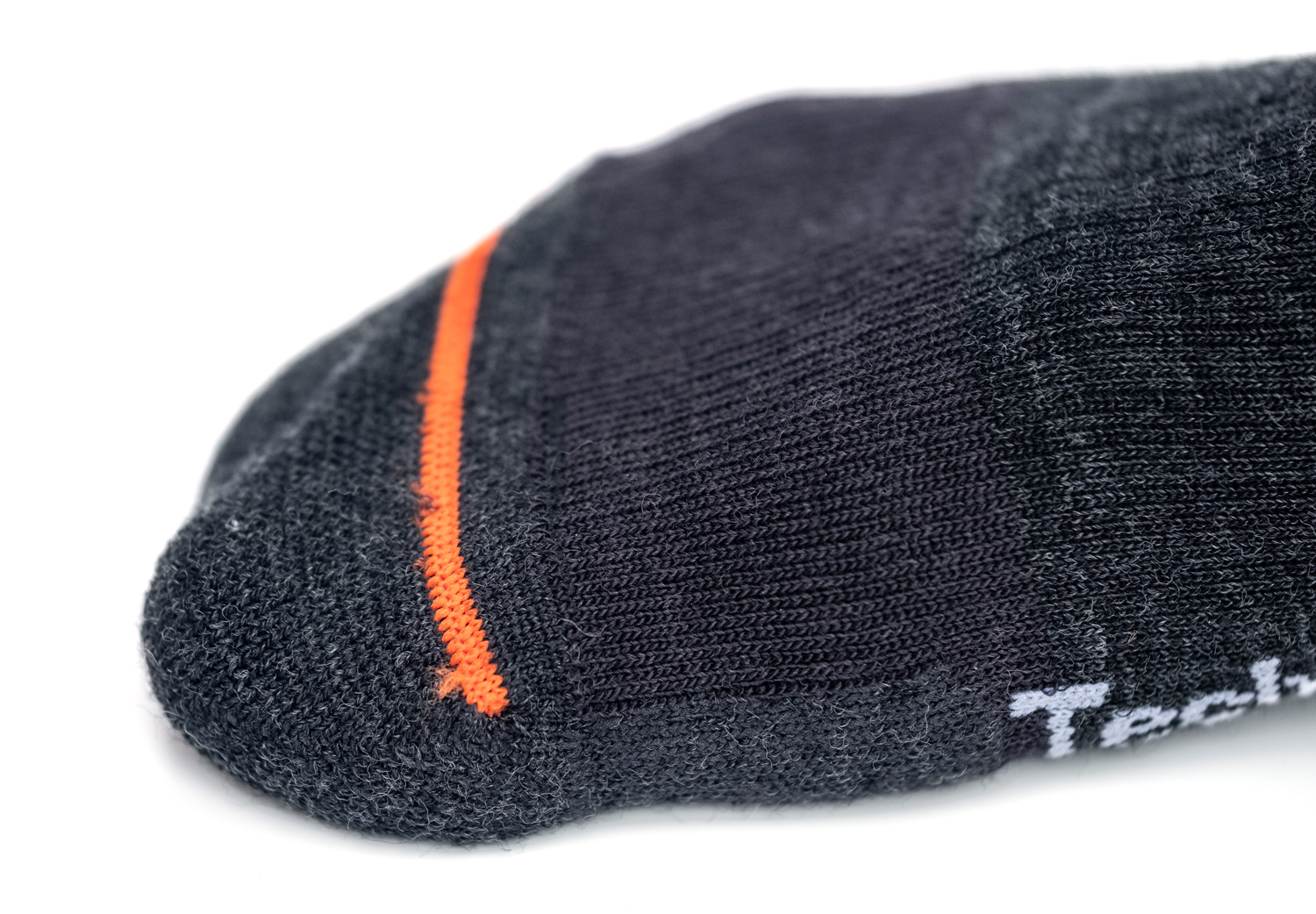 Fishing socks on the other hand – or only thick wool socks – are intended mainly for warming. That is why they are the right choice for using during cold months or for relative still standing activities outside the most time of the year. Socks must be produced after a so-called loop construction to provide maximum warms.It means that there are many wool loops inside the sock. Larger quantity of tight loops provides better warming socks – because of extra volume of wool on the one side and because of many small air pockets, which helps to keep warm air on the other side.We recommend using of a thin liner - a thin merino wool inner sock under thick socks - to achieve the best comfort. It guaranties almost always dry and warm feet.
There are two different thick socks models in our assortment – Wooly og BootWarmer. BootWarmer is a classic thick sock regarding the fitting and length, but manufactured naturally of the finest merino wool – and can be used for everything roughly speaking. Wooly is on the other hand designed specially for using in waders – and particularly waders with a loose boot. Woolly is reaching a bit above the edge of your waders, but is shorter than BootWarmer. Furthermore there is an additional space in the forefoot which ensures that it will not be too tight, when it comes in wader boots – it guarantees good blood circulation and as a result of these the best conditions not to get cold feet.
How many pairs do I need?
It depends mainly on what you want to use socks for. If you are only going for one day trip, one pair is enough. But if you are going for more days, then you must have as a minimum two pairs, so you can always change to a pair of dry one. The same is important if you are using socks for demanding hiking or other activities, where you are sweating. In this case it is more comfortable to change to a pair of dry socks during the day, when you are taking a break.
When using a combination of thick socks and a liner it can be necessary to have an extra pair of liners.
Can I use the same pair of socks year around?
Yes of cause, if socks are manufactured from the best merino wool you can do it in fact. A combination of both - a liner and a thick sock provides a good comfort under many different conditions, though it can become very warm – however what does not in a pair of waders in summer? If it is desirable to get something thinner under these conditions, than it is possible either using only the liners or furthermore better a real hiking sock – it will provide good support and comfort without being too warm.
For shorter trips or for everyday use, where activity level is not the highest are liners a good choice. They provide a minimum warming and helps to transfer sweat quickly away from feet – even in a summer heat.
Find our selection of socks HERE
Why to choose Geoff Anderson´s TechnicalMerino socks?
Socks have always been interesting to us. But the high number of excellent manufacturers was keeping us staying away. Right until now.
After many years of development work we have found an answer.We have added on three functional improvements, which differs remarkably from even the best socks you know. They help to:
Maintain the well known comfort of merino wool adding unknown until now durability
Unite and combine experience, dedicated research, development and the most advanced "knitting technology" in the world. And additionally, gather it all there, where the world finest wool comes from - New Zealand
Use elastic support/compression, which is knitted in every sock, placed strategically correct – called ESS™. ESS™ ensures compression helping better circulation and a sock not falling around an ankle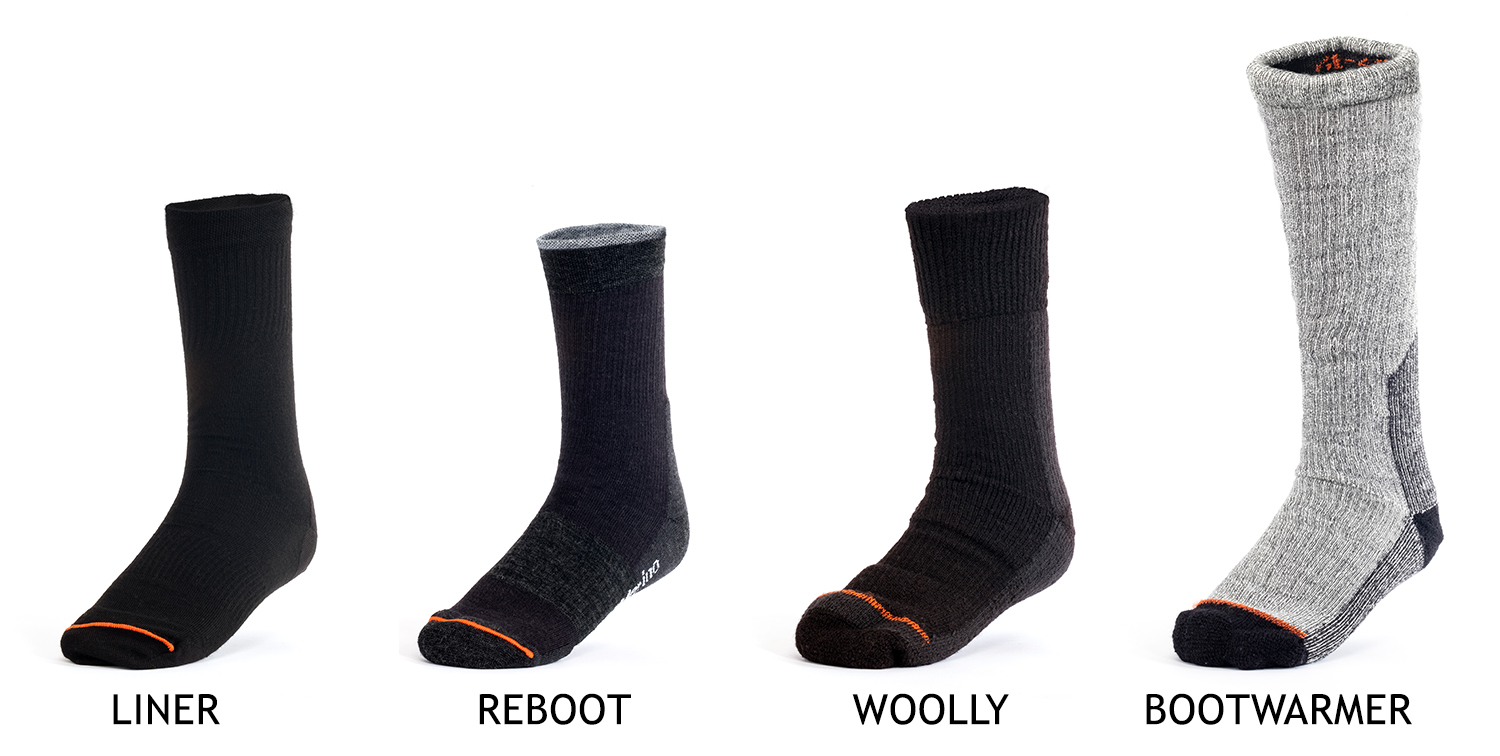 Traditional reach craftsmanship
There is more than 117 years experience, craftsmanship and history behind every single sock we manufacture. It ensures that our socks are both - durable and comfortable.
Thanks to our technology, strong and raw merino wool yarn is refined to "loop-cushioning", it reinforces, adds elasticity and collects all together in one pair of socks – may be the best one you ever had?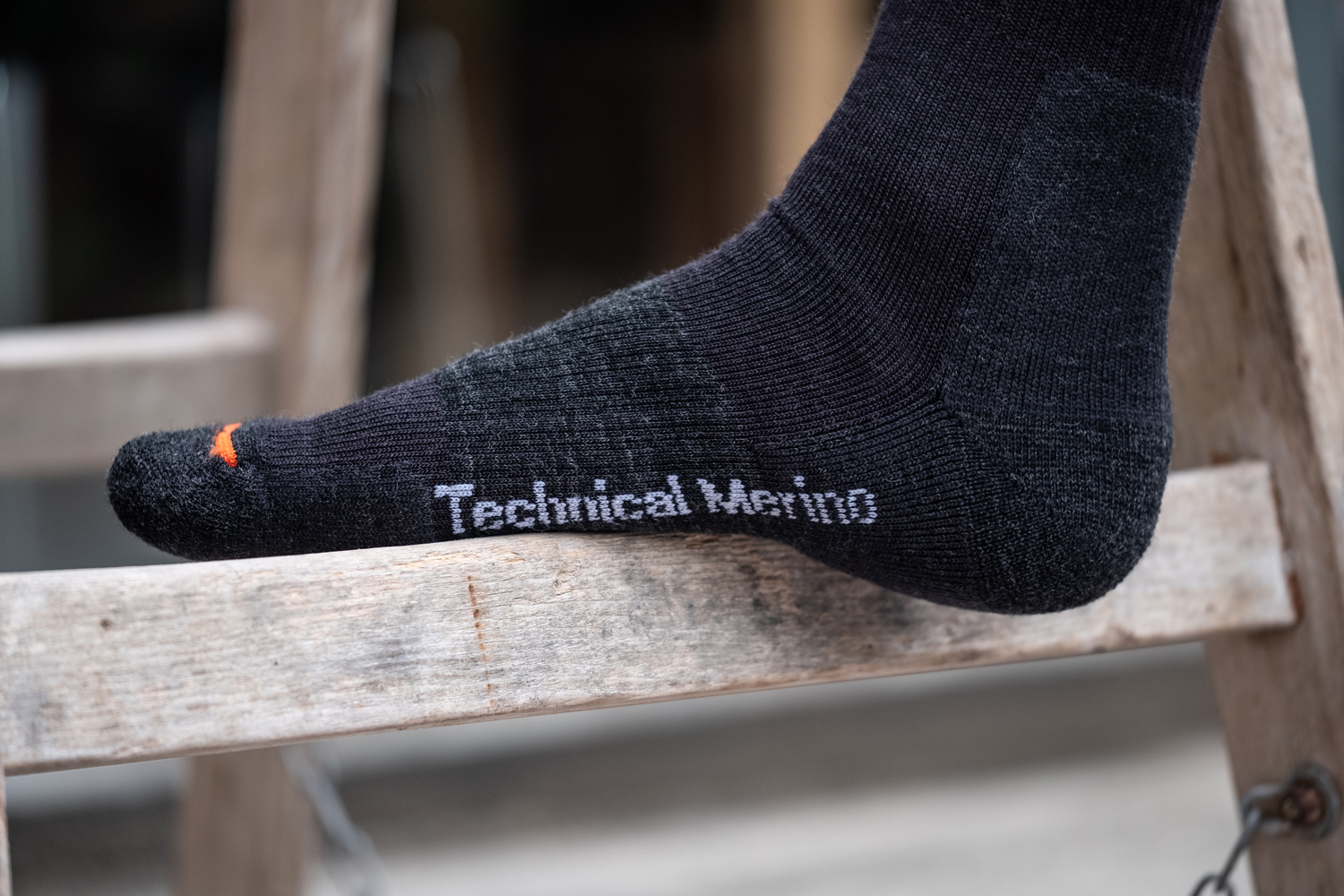 ESS™ Elastic Support System
The elastic support system is strengthening other functions of the sock. ESS™ ensures an adapted fit and support, locking the sock to the foot and to the lower leg.
A tight and accurate fit is essential for reducing friction and displacement. The advanced manufacturing technology accommodates and adapts the elasticity and provides a perfect adjustable support and fit.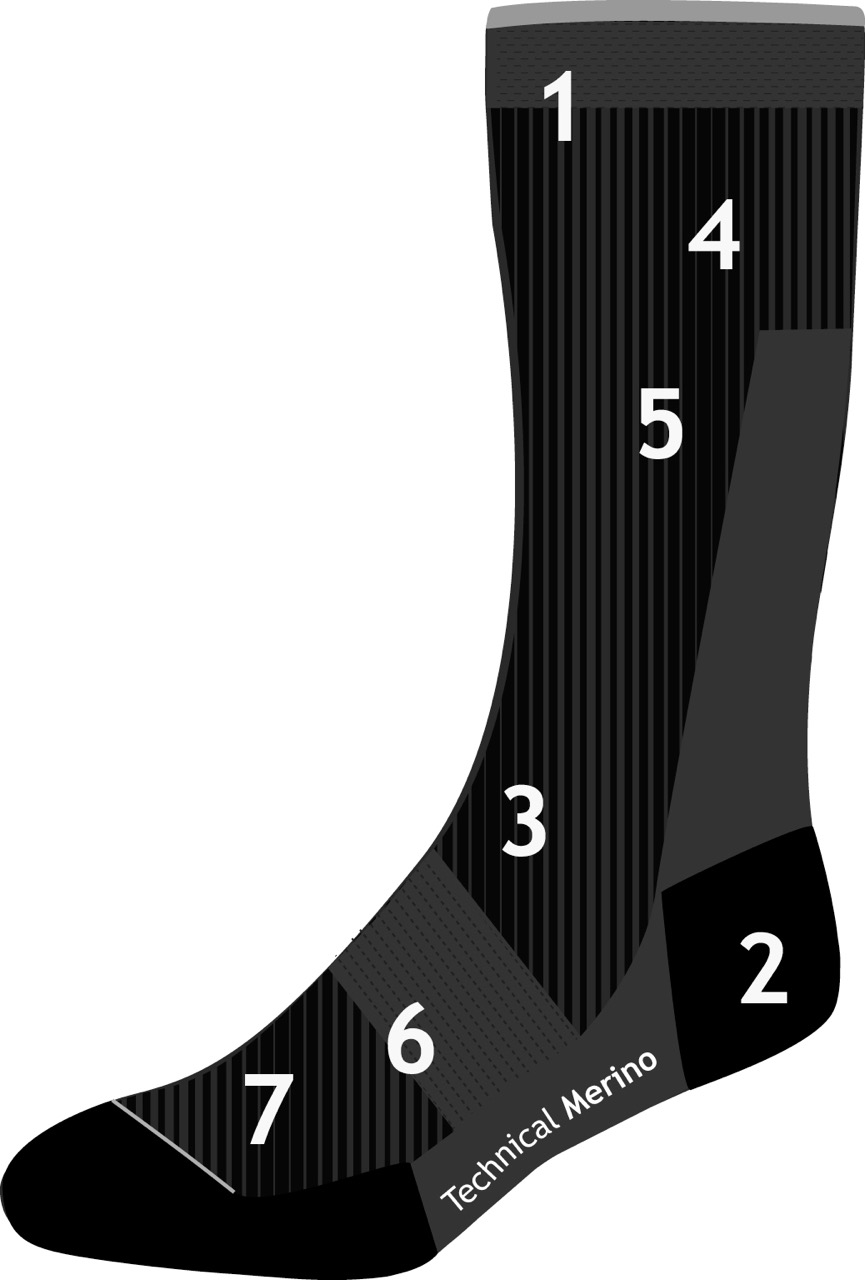 A stretchable cuff ensures, that the sock is staying in place
Maximum "loop-cushioning" provides high comfort and perfect microclimate
Y-Heel-design locks the sock around the heel
ESS™ (Elastic support system) supports in the hole upper area of the sock
Comfort Zone™ cushion and reinforced critical zones provides extra durability
Elastic belt above foot arch
Seamless closing around toes
Why TechnicalMerino?
Merino wool is a natural and healthy environmental choice - especially, when wearing directly on skin.
We use our merino wool intelligent and that is why you can enjoy low weight, strength and breathability in every sock.
Natural properties of Merino wool fights off bacteria and remain unchangeable odor free.
Extremely fine wool fibers are not causing irritation or itching.
We promise you socks:
Exceptional durable
100 % natural merino wool from New Zealand
Soft and comfortable
Minimal weight
Odor resisting
Temperature and moisture regulating
With balanced microclimate